The mountain area of Nepal covers 16% of the total land area of the country. It is the least populated area due to the cold weather and very less fertile land. The number of livestock in this area is very low compared to other parts of Nepal (viz. Terai and Hilly) because of its difficult terrain and lack of access to infrastructure. Animals like Yak, Mountain Cow, Mule, Donkeys, Sheep Goats, and Mountain dogs are the common domesticated animals found in the region and most of the households are dependent on traditional livestock farming for a living, use as a transportation medium, and harvesting of yak and mountain goat wool, etc. Since people of the region are not aware of animal welfare issues we need to make them aware and support in addressing the animal welfare issues in the region.
Sneha's Care started the program in 2020 with the launch of the "Himalayan Equine Welfare Project" in the Annapurna Conservation area and since then we're trying to expand the program in many remote areas of the Himalayas to end the cruelty on animals by using them as means of transportation.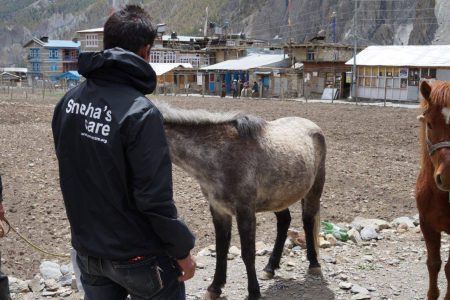 MULES AND DONKEYS TREATMENT IN MANANG DISTRICT
Sneha's Care conducted a five days equine health treatment camp in Manang district in coordination with District Livestock Service Office (DLSO). We started a health treatment camp from Manang and continued to Chame, Koto, Dharapani, and Tal village. The preliminary mules and donkey population survey conducted in February 2017 by Sneha's Care showed 300 mules and donkeys in those areas. During the health camp, the team treated 180 mules and donkeys of the villages.
Out of many diseases treated, the most commonly found health issues in the equines are hoof problem, joint bone problem, tick problem, lack of nutritional diet, infection by worm, eyes problem (lachrymal duct block), pneumonia in foal, and wound on a harness and some attack by a snow leopard.
The team also organized a half-day workshop titled "Good Health for Equine" for equine owners in DLSO Manang were 23 owners participated and discussed the health issues and also we made them aware of the proper handling of minor health issues in equines and showcased to them how it can care. Also, another similar camp will be organized in September 2017 by the organization.