Ms. Sneha Shrestha is an animal rights activist and founder of Sneha's Care whose sole purpose is to protect the street dogs and farm animals from torture, cruelty, and ill-usage. She is one of Nepal's and Asia's most influential animal rights activists. Sneha and her team provide professional medical and humane care to injured, sick, and abandoned dogs and other street animals through mobile treatment and rescue. Sneha moves forward with the belief that in the actions of individuals, businesses, and government, the rights of animals can be protected. Ms. Sneha believes that all living creatures should be acknowledged and treated humanely.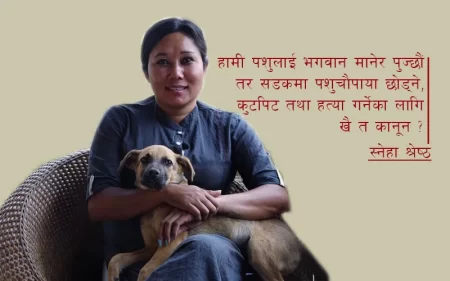 Sneha's Care has been operating under the leadership of Ms. Sneha Shrestha. Sneha's Care was founded in 2015, a few years after the death of Sneha's pet Zara. Sneha wasn't an animal lover, not even a dog lover until she adopted two puppies. She soon fell in love with their loyalty, kindness, and tenderness. Despite her reluctance, Zara quickly stole Shrestha's heart. Zara was a child to Ms. Shrestha.  She was devastated when one day Ms. Shrestha found her dog was poisoned by her neighbor. Despite several attempts to save Zara's life, she couldn't survive. This was a point for Sneha realization to advocate on behalf of voiceless animals.  Knowing how Zara had suffered and how unjustly, Ms. Shrestha began to see street dogs differently. She started feeding them, carrying biscuits with her wherever she went. She started noticing how many of them had injuries and desperately needed vet care.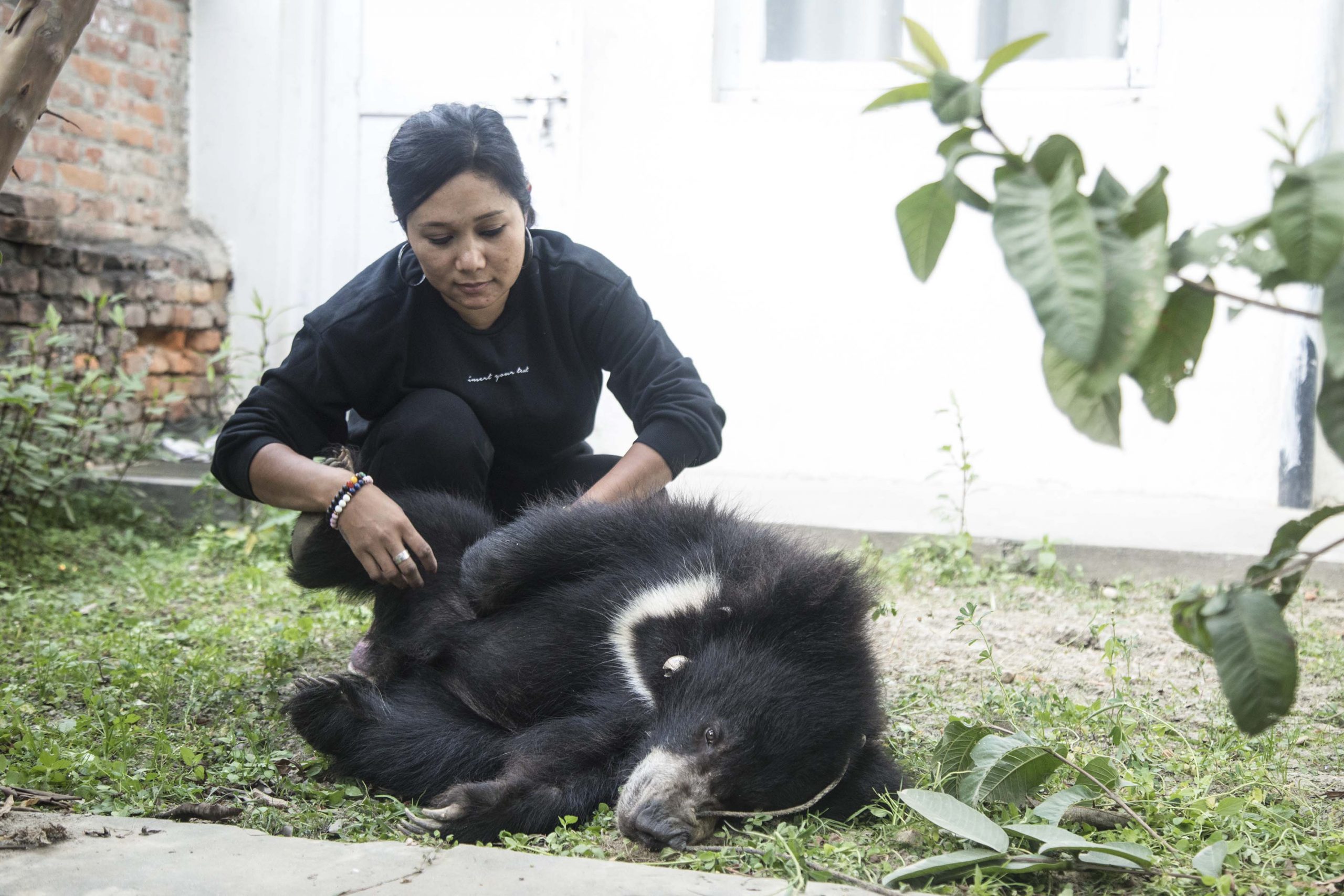 She couldn't see their struggle and began paying for space at a local kennel to give street dogs shelter, care, and regular meals. Within a month, the kennel was full. But Shrestha wasn't satisfied and didn't like how the kennel was being operated. So, with the support of her husband, she sold a house she owned and opened a shelter. She then realized how much love she had for dogs suffering on the streets, and saw all animals in a new light. She realized that she was an animal lover, but only showering love to dogs. So she initiated a farm animal shelter as well and became vegan. Sneha says, "Zara is the reason I have this shelter."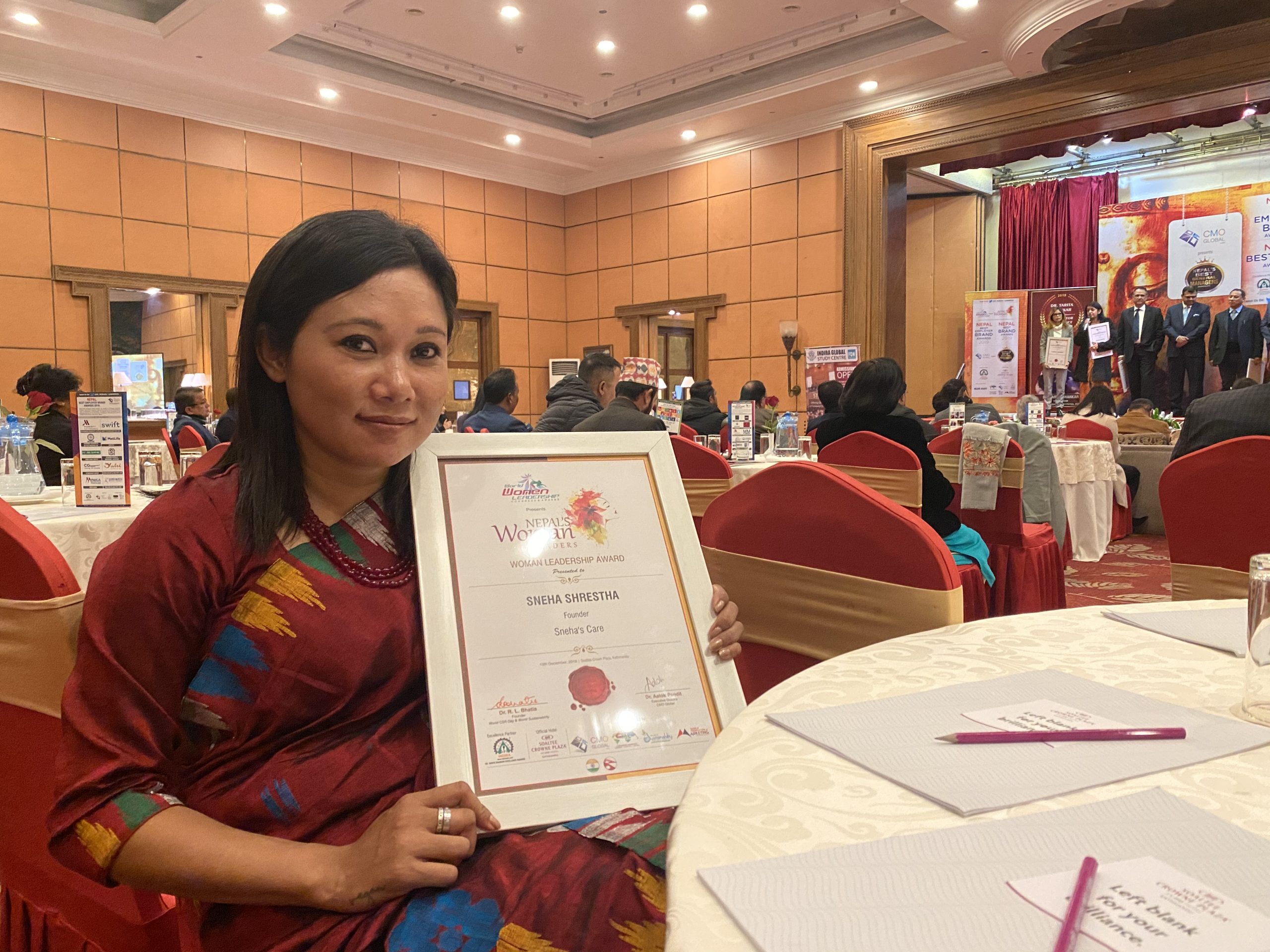 Today, Sneha's Care has two shelter facilities; a dog shelter, and a farm animal shelter. A professional team of veterinarians, technicians, and volunteers is at the service of rescue and injured animals. So far, there are many injured and paralyzed dogs in Sneha's Care dog shelter, and abandoned farm animals where their treatments are being done and looked after.
Shrestha believes that educating young people about protecting animals is paramount. "I was never taught in school to be kind," she says, but now she sees local children visiting the shelter and donating their pocket money.
"And it's not just us who can teach compassion. The most important thing is to have humanity. It's not only people who teach you humanity; I learned humanity from these animals. These animals taught me everything."