About the Founder
Sneha Shrestha is an animal rights advocate and the founder of Sneha's Care, whose sole purpose is to safeguard farm animals and community dogs from all forms of abuse, cruelty, and torture. She is a prominent advocate for animal rights in Nepal and through her passion, dedication, and persistence, she has been able to win the hearts and trust of many animal-loving individuals and organizations in Asia and throughout the world. Even though Sneha's Care is a huge organization in Nepal that promotes animal welfare, this wasn't always the case. It began purely out of Sneha's passion and concern for animals, just like the name of the organization which means love or affection.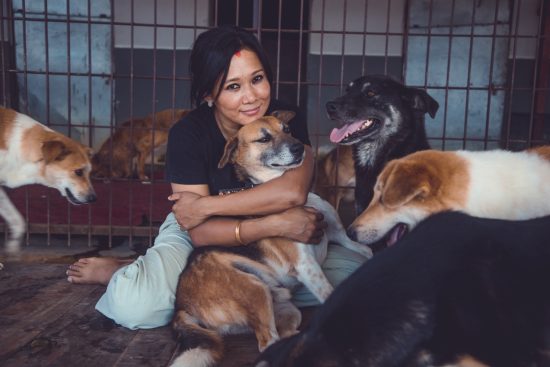 Prior to buying two puppies, Sneha had never been an animal lover, not even a dog lover. Despite her hesitation, she agreed to get dogs, but she didn't want them to be street dogs as they are dirty. So, she bought two puppies, and one of the puppies she bought was Zara who quickly won Sneha's heart with her fidelity, generosity, and tenderness. Zara was more than a family member to her. She was like her own child. Zara was a ball of joy and love. She was very playful and friendly with everyone. She would wait at the gate for Sneha to come home from work every day. She would start wagging her tail and jump around her in joy. Sneha didn't even realize when Zara became such a significant part of her life. Sneha started getting up earlier than usual just to walk the dogs and spend time with them. She started getting so used to seeing Zara wait for her at the gate and play with her, but one day she didn't find Zara there. It was an unusual sight for Sneha. She went on looking for Zara to see if there was something wrong with her, then she found her inside, vomiting blood. She was devastated to discover that her neighbor had poisoned her dog. Despite several attempts to save Zara's life, she couldn't survive. She died four days later. For them, it was just a dog who would bark to disturb them and didn't have any significant value, but for Sneha, that dog was her everything, her family, and her joy. And just like when a family member dies, people from Hindu culture would follow some rituals to grieve or mourn over the dead for 13 days by not eating salt and other delicacies, Sneha followed the ritual for her dog.
Knowing, how Zara had suffered and how unjustly, Sneha realized her deep affection for dogs and felt compelled to speak up in their defense. The fact that her dog wasn't safe on the premises of her own home made her question the status of the dogs roaming freely in the community. As a result of her transformed perspective on them, she, then, began to notice dogs everywhere she went. To pet and feed the dogs she comes across, she always carried packets of biscuits with her. She began to see how many of them had wounds and were in dire need of medical attention as she continued.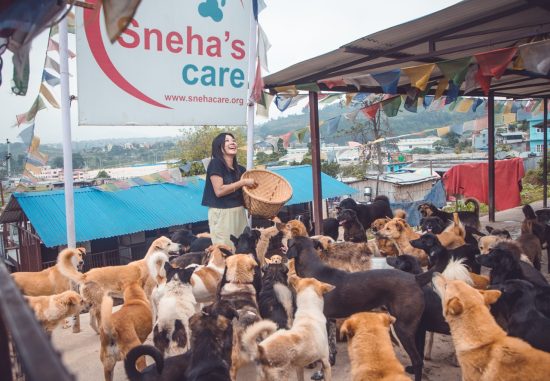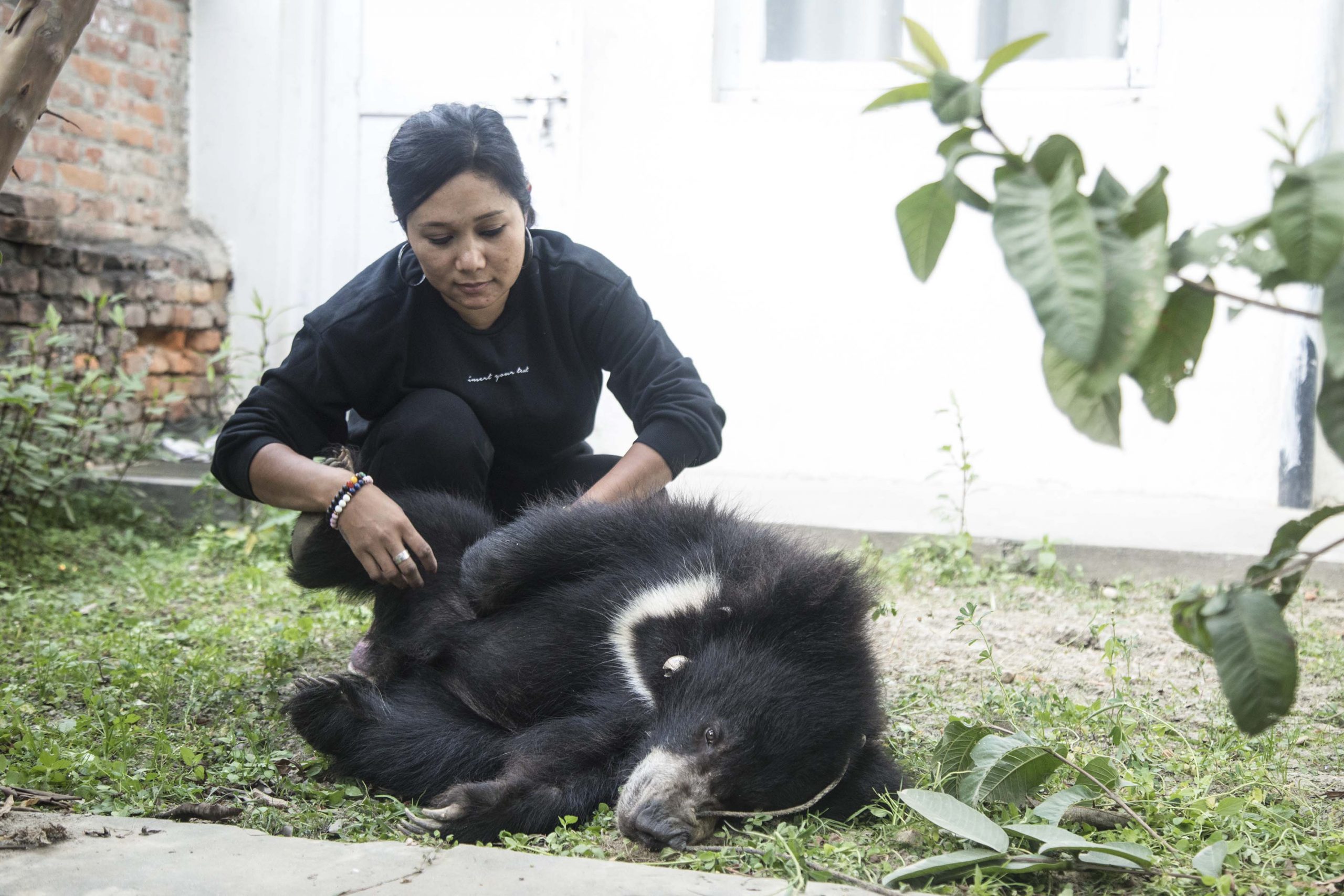 She began paying for space at a local kennel to provide shelter, care, and regular meals for community dogs since she couldn't see their misery. The kennel was filled in less than a month. She felt that she could be able to help even more dogs and work more effectively and efficiently if she had her own shelter and a team to support her. So, she sold the home she possessed and started the shelter. She later came to understand how much compassion she had for community dogs and had a new perspective on all animals. She came to the realization that although she loved all animals, she was only showering her love on dogs. She started noticing that many other animals were also in need of medical attention and care. Male calves were abandoned as soon as they were born because they would only drink the milk that was supposed to be sold and they are not even beneficial to humans. Other farm animals like goats, pigs, and buffaloes are treated and killed cruelly for food purposes. She then started a farm animal shelter too as she realized that she should initiate the change from herself. She also became a vegan in her attempt to exclude herself from being a part of animal cruelty as she realized how her consumption of meat and use of animal products increases the demand in the market ultimately promoting animal cruelty.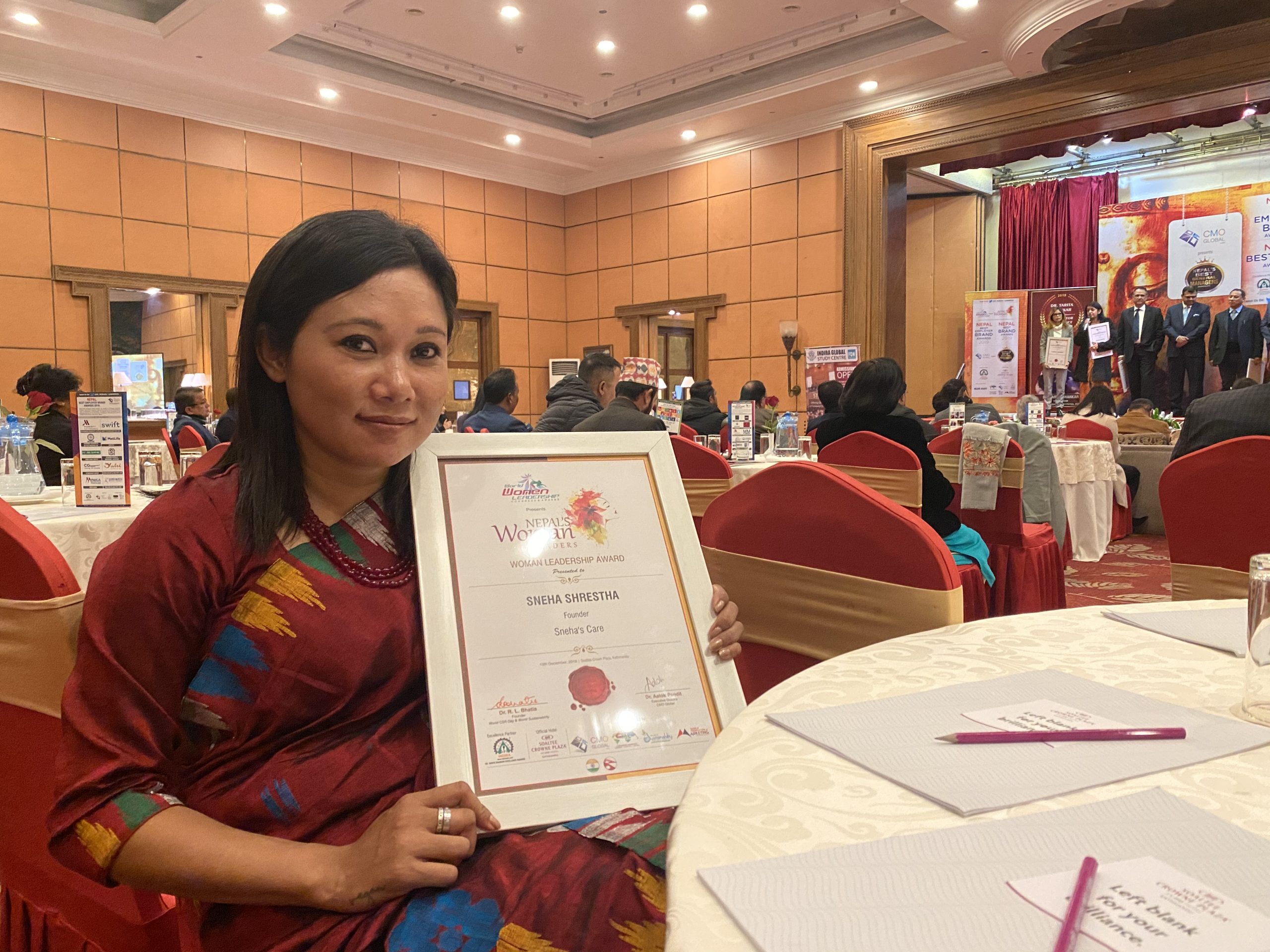 Today, Sneha has adopted 12 community dogs herself and Sneha's care operates a shelter for community dogs and farm animals. There are many paralyzed dogs in the shelter who were mostly injured in hit-and-run cases. Many people asked her why she wouldn't euthanize these paralyzed dogs. There are no dog wheelchairs to purchase in Nepal, they have to be imported which costs a lot of money, and taking care of these paralyzed dogs in itself is very difficult and costly. They ask, "Are these dogs worthy of all the efforts?" Sneha responds, "My father was paralyzed for 17 years. We never thought of euthanizing him." She says that the only difference between her father and the dogs she looks after is that, she could understand when her father speaks to her and he says that he wants to live, but she can't understand what these dogs are saying. Sneha claims, "Just because I can't understand their language doesn't give me the right to euthanize them." Sneha's story begins with her hesitation with dogs to loving them immensely. Sneha claims that Zara is the reason behind the establishment of the shelter. Even though Zara is no more in this world, she still motivates Sneha. Sneha still keeps her photo beside her bed and she looks at it every day. She is motivated to work even harder for the community animals who are mostly neglected by society.
Sneha's Care was first established to save farm animals and community dogs, but now it focuses on a variety of animal welfare issues from raising public awareness to influencing national legislation regarding animal welfare. Sneha thinks it's essential to instill compassion for all animals in our young people and to enforce tough regulations to instill the idea that EVERY LIFE MATTERS.
"And it's not just us who can teach compassion. The most important thing is to have humanity. It's not only people who teach you humanity; I learned humanity from these animals. These animals taught me everything."