Success Stories >
Sneha's Care Won Two Cases
1. Decision No. 10299
Supreme Court, Division Bench
Hon. Justice Dr. Mr. Ananda Mohan Bhattrai
Hon. Justice Mr. Purusottam Bhandari
Order
075-WO-0843
Subject: Mandamus
Plaintiff:
Advocate Padam Bahadur Shrestha on behalf of Sneha's Care located at Lalitpur District, Karyavinayak Municipality, Ward no. 6 and changed Lalitpur Sub-Metropolitan City, Ward no. 2.
Defendant:
Government of Nepal, Office of the Prime Minister and Council of Ministers, Singhdurbar, Kathmandu,
Ministry of Agriculture and Livestock Development, Singhdurbar, Kathmandu,
Ministry of Health and Population, Ramshahpath, Kathmandu,
Department of Livestock, Hariharbhawan, Lalitpur,
Ministry of Forest and Environment,
Ministry of Federal Affairs and General Administration
The Verdict:
Sneha's Care fought these injustices, to ensure these animals their basic needs and rights. Sneha's care team rushed to Kailali after the incident came to the news and tried looking into the matter. With such disgraceful handling of animals, Sneha's care with the help of Advocate Padam Bahadur Shrestha requested the Supreme Court to take action against our respondents for not being able to carry out their duties and their negligence resulting in such a tragic incident.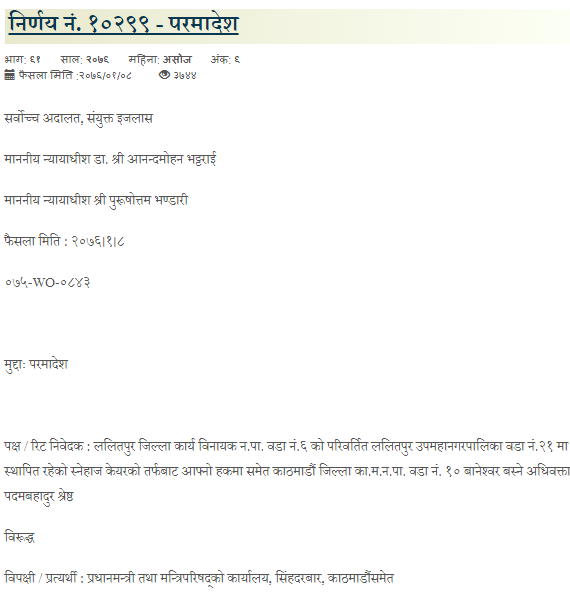 Observing and evaluating the case, the court decided that the respondents strictly act upon their duties with more diligence and care. Along with all the Articles, Sections and Directives breached to be followed and brought into implementation, and provide the animals the appropriate care and suitable conditions to live in. People who carelessly mistreat and abandon these creatures are to be fined and penalized according to their respective criteria. The respondents are to regulate these guidelines strictly and if they fail to do so, action is likely to be taken against them by the court. The respondents are also responsible for conserving and protecting the genetic diversity of the Cows and oxen who belong to Nepal as Nepal has its unique sub-species of cows.
For Detailed Info Visit :  https://nkp.gov.np/full_detail/9365
2. Case no 10224: https://nkp.gov.np/full_detail/9274